Giving Back
Donations to our Selected Causes
There are a couple of causes which we are particularly passionate about, which hit very close to home:
(1) animal welfare / rescue organisation - our local animal welfare groups work tirelessly to save animals born on our streets and give them a second chance at life.
For every purchase of a The Paws Bali bandana, 20% of the sale price (not just profit) is donated to Causes for Animals. This is in addition to an amount which has already been set aside by Libby, the Founder of The Paws Bali to rescue street dogs in Bali. 
From our current batch of bandanas from The Paws Bali, we have contributed to these 2 puppies in Bali getting their first vaccinations and veterinary help for their skin conditions.
 (2) rescue of Orang Utans - Orang Utans are dying in large numbers, sometimes in utterly cruel and horrific ways (machetes?!), because of deforestation for palm oil plantations.
Their habitats are destroyed when forests are cleared, and they are sometimes treated as pests when they are displaced and enter villages in search of food. They are deliberately harmed or killed, sometimes with a baby in tow. The juveniles are then removed from their dying mothers and enter the illegal wildlife pet trade.
5% of our monthly sales (not just profits) will be donated to The Orangutan Project to support their work rescuing, caring for and rehabilitating Orang Utans in Sumatra and Borneo.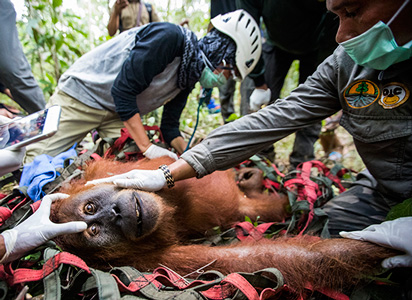 (Image Credit: The Orang Utan Project)
Together, we can make this world a better place for all of us.
You can read more about our beneficiaries here:
- Causes for Animals Singapore (https://www.causesforanimals.com/)
- The Paws Bali (https://www.balipaws.com/)
- The Orang Utan Project (https://www.theorangutanproject.eu/)